Are you looking at me?
This cute little fellow was one of a number on the road side as we travelled between Angkor Thom and the Bayon. They looked so adorable, I just had to get out of the tuk tuk for some photos. But don't be fooled by their cuteness - they can become very territorial. Particularly when it comes to food!
They also have excellent eyesight - talk about 20/20 vision!
Today's Quote:
Never hold discussions with the monkey when the organ grinder is in the room - Winston Churchill.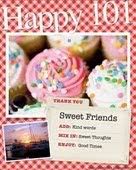 What a wonderful surprise to be awarded the 101 Award from
Arabesque from Mabuhay-Manila
, thank you my friend.
So many have encouraged me with their wonderful photos and writings. I'd like to pass this on and share it with some of them -
Diane from
Adventure Before Dementia
Autumn Belle from
Klang, Malaysia Daily Photo
JM from
Oeiras And Environs Daily Photo
Leif Hagen from
Eagan Daily Photo
Gerald from
Hyde Daily Photo
Stephen Baird from
Nikon Sniper
Lois from
Tallahassee Daily Photo
Denise from
An English Girl Rambles
Bill from
Our Brisbane and Surrounding Areas
Sylvia from
Sylvia From Over The Hill