May this Easter bring you happiness, joy and love, and may you find new meaning in the world around you.
Above:
The Resurrection
Alleluia, Alleluia,
Christ has died,
Christ is risen,
Christ will come again.
Alleluia.
Above:
Antique Easter cards
The History of the Easter Card
We send cards for different celebrations, but do you know when the first Easter card appeared? The tradition began in the 19th century. In 1898, the first Easter cards were postcards - mail requirements for postcards stated one side was for an address and the other side was for a greeting which left little space for a long message. Mail requirements eventually changed to the familiar postcard design we see today.
Rabbits, lambs, flowers and bunnies were some of the first images to appear on Easter cards. Today, these postcards are now larger and folded in half with a picture appearing on the front and a greeting on the inside with room for the sender to write a message.
Above:
The Easter egg
The egg is a symbol of the start of new life, just as new life emerges from an egg when the chicken hatches out. And so we give an "Easter" egg at Easter. The Easter eggs of old which were hard-boiled eggs painted with coloured paints and decorated have now been replaced with chocolate eggs.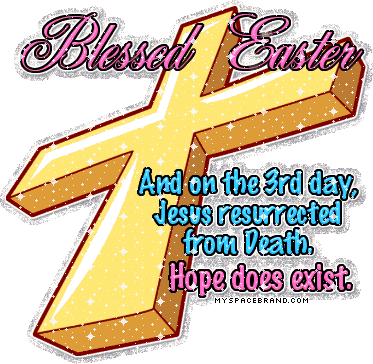 Today's quote:
The resurrection gives my life meaning and direction and the opportunity to start over no matter what my circumstances ~ Robert Flatt